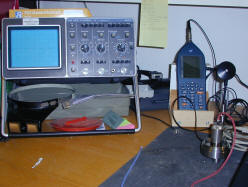 To give you the best possible service Entomed MedTech AB has a well equipped workshop with high end calibration instruments, and other measuring device. We have couplers for all kind of transducers used for hearing test of all kind. We also have measuring device for ECG, Suction Pumps, Blood Pressure meters, Weighing Scales and other equipment used in the healthcare.
What services can we offer?
Calibration with high end calibration instruments. We calibrate the equipment at an Accredited National Laboratory according to the recommendations from the manufacturer, and the requirements in the standards

The traceability this gives ensures the quality of the calibration.
Preventive maintenance

By having your instruments checked/validated in respect of function and performance you ensure that you have equipment safe to use both for yourself and your clients/patients. You also ensure that the test results are correct. Some of that control can be performed by yourself on a daily or weekly basis to have a rough control of the instrument. The yearly control however has to be performed by a "Competent laboratory" as it is expressed in the standard. The standard also has requirements for the environment where this yearly control is performed in respect of humidity, temperature, air pressure and background noise. This also mean that in many cases it is not possible to perform a calibration at the customers site since the control of the environment often shows that at least one or two of the requirements are not possible to fulfil.

"Send-in" service

When you have a malfunction you will have to send the instrument to us, or your local service facility. This is due to the fact that all electronic equipment is sensitive for ESD (Electro Static Discharge), which can destroy the electronic components inside. When there is a need to open up the instrument case it must be done in an ESD safe environment, and that is not possible to arrange at a customers site. When having your instrument in for some kind of repair we also perform a full calibration to ensure that the malfunction, and the parts replaced to correct it, doesn't have any impact on the calibration and performance of the instrument. When returning the instrument to you we always include a service report and a calibration report for your files.

"On site" service

Since we are active in Sweden we don't offer "On site" service outside of Sweden, mainly due to the high travel cost. For international customers we primarily recommend you to contact the local Entomed distributor. If in doubt who your local distributor is, don't hesitate to contact us with your name and location, and we will provide the name and contact to your local distributor.
---